Brandy & Rick Answer Your House Number Questions
Have a question about our products, about the new house numbers you've picked out, about installation, or about Modern House Numbers? We're always happy to answer your questions! Rick and Brandy have assembled the most frequently asked from the MHN mailbag, and share their answers here. 
You might just find the answer you're looking for here, so read on! If you don't see your question here, visit the FAQ's on our website, or email us anytime.
Here are the most asked questions from our customers:
1. I don't have a modern home. Can I still use address numbers in a modern font?
The short answer is, yes! We're big fans of adding modern flair to any home. If your house is traditional, historic, rustic, Mediterranean, arts and crafts, or any other style, we have a complimentary font option. Mixing styles is always okay! Our first recommendation is to choose numbers in a font that reflects your style. You want to pick a font that will make you smile every time you come home. Our second suggestion is to look through our vast gallery of customer installations. It's often helpful to see examples of how other people add modern details to their entries and exteriors. Then you can visualize how the address numbers you like might look on your home.
4in Palm Springs numbers, Dark Bronze |  Palm Springs plaque, Brushed Aluminum
You'll be surprised how good a modern font can look on any architectural style!  Lastly, use the preview feature on our website to see how your digits will look in each of our font options. We always like to see how your specific address will look in each style. For example, the number '9' in our Palm Springs font style looks different than the number '9' in our South Beach font. The preview feature on both our Numbers & Letters page, and our Plaques page, can help you narrow down the best choice for your specific address numbers.
Font preview feature on modernhousenumbers.com
2. How do I know if the house numbers I've chosen will fit in the spot where I want to install them?
This is a good question, and an important one. You don't want to invest in new house numbers if you're not sure they're going to fit and look good. In a few simple steps you can figure out if the area you've picked will work for the font and size you like best. 
The first step is to measure the area - width and height - of your installation location. Next, find the width of each of your numbers in the font you like in our Technical Specifications (found on the 'Learn' tab on our website). Write down the width of each number. Add that up to get a total width for all your numbers. Next, you want to account for the spaces between each number. If you forget this important step, you might end up with address numbers that look too crowded. The amount of space between each digit will vary by the size and shape of the numbers in your address. You can refer to our helpful Spacing Guide - also on the 'Learn' tab of our website - for both horizontal and vertical installations. Spacing will vary from 1/2" to 2-1/2" depending on the size of house numbers you choose.  For more information, visit our YouTube channel (@modernhousenumbers) and check out this helpful video where we walk you through this process, step-by-step.
You Tube Video: How much room do I need for my new numbers?
 3. Are your numbers any different from the numbers at the hardware store?
Yes! First, all of our house numbers and personalized plaques are handcrafted, just for you, by our team in Tucson. We don't mass produce our products. We craft every number, letter and plaque from solid, 3/8" thick, recycled aluminum for style and durability. We selected aluminum for its consistent quality and for its recycled content. The aluminum is cut using a waterjet for architectural-quality cuts, edges, and finish. 
Example of solid, hefty address number '0' from Modern House Numbers
In this photo, you can see a comparison between a hollow number from the home improvement store, and our number made from solid, recycled aluminum. The difference is very obvious, especially when you hold them in your hand. Solid aluminum is more durable, and heftier, than other options at the home improvement store. In addition to providing a superior product, we also use sustainable principles in our manufacturing. We use a CAD system to minimize waste during manufacturing, and recycle the byproducts to be made into new aluminum sheets. Our precision-crafted aluminum products are made in the USA to withstand the harsh elements, and to last for years to come.
4. How do I install your address numbers?
Good question. We want you to love your new house numbers, and the installation process is so important. Installing your new house numbers or plaque is straightforward when you use the correct tools, the included drilling template, and our step-by-step instructions. The secret to success is the paper drilling template that our designers create just for you. We'll determine the perfect spacing for your number set. No guessing or worry about the spacing! We also include concealed hardware - studs and spacers - for a subtle, floating effect. You'll insert the hardware into the back side of the numbers and secure them with exterior grade epoxy for a strong bond. For a proper installation, you'll provide a few supplies like a drill, rubber mallet, tape, a level, and the adhesive.
Check out our YouTube channel (@modernhousenumbers) for a helpful video where Terry walks you through the installation process, step-by-step. We suggest looking at our installation instructions online to get a closer look at the supplies you'll need each step of the way. Some installations, especially those that require drilling into hard materials like brick, masonry, stone, and concrete, require a hammer drill for a smooth installation. 
 5. Are Modern House Numbers easy to maintain?
Yes! Our products are very easy to maintain. With a proper installation - make sure those studs are fully protected from the elements! - regular cleaning with a mild detergent and lint-free cloth are all it takes to keep your numbers, letters and plaques looking like new. You'll find cleaning suggestions on your installation instructions, and on our website.
6. Which kind of adhesive should I use when installing my new numbers?
This is one of our most asked questions, and it's a good one. Selecting the right adhesive is easier than you may think! Follow these guidelines, and you'll be installing your new numbers in no time. Choose an adhesive that is 1) exterior grade, 2) clear drying, 3) fast drying, 4) epoxy. 
An clear, exterior grade epoxy will get great results, no matter which brand your choose. Check out our YouTube channel (@modernhousenumbers) where we visit the local home improvement store to show you how to select the best adhesive for your installation.
7. Can Modern House Numbers be installed on a commercial building?
Yes! Our 12 inch and especially our 15 inch numbers are popular for commercial and industrial buildings. These larger sizes make them very easy to read from the roadway, making your address easy to spot and read for guests and passersby.
15 in Palm Springs numbers
Also helpful for commercial buildings are our plaques and signs. They are very are popular for wayfinding, room names, parking lots, elevators, stairs and lobbies.  Our decals are popular for signs and addresses applied to glass and metal. We are happy to work with boutique hotels, apartment buildings, condominium projects, property managers, developers, architects, designers, and contractors to find the best numbers and signage for their project.
8. How does the hardware work? Do the numbers 'float'?
Our products are designed to use hardware that cannot be seen from the front of the number or plaque. There are two parts to the assembly: 2 inch long steel studs, and 1/2 long aluminum spacers. The stud is inserted with a small amount of epoxy on the end, into the back of the number. 
Hardware includes steel studs and an aluminum spacers
9. What is powder coat and why do you use it?
Powder coating is an electrostatic process that creates a chemical bond of a colored powder to a metal surface. In this case, we apply the powder coat finish to the surface of our aluminum numbers, letters, symbols and plaques. The nature of the powder coat process, results in a finish that is much tougher than conventional paint. Unlike paint, our powder coat finishes won't chip, peel or flake. Our powder coat finishes are matte or low gloss, for a more sophisticated and high end look.
 8 x 8 address plaque, Matte Black
We have selected our powder coat finishes for their gorgeous finish quality, and our ability to achieve the consistent, uniform finish that meets our standards for style and longevity. Powder coat finishes are far more resistant to chipping, scratching, chemicals, fading, and hold up better to general wear and tear than other painted finishes. We want your products to last for years to come! Powder coated finishes look fantastic, and hold up to the harshest conditions and weather. They're highly recommended for coastal and industrial areas for this reason. Our powder coat finishes include Matte Black, White, Matte Brass and Dark Bronze.
10. What is the paper drilling template for? Why is it important?
We know that drilling into your home is a big deal! We want you to be 100% certain before you begin to drill. To make the installation process as worry-free as possible, our design team takes several steps to make sure that your products will look great after install them. The most important and helpful, is the paper drilling template! It may look like a basic piece of paper, but it makes all the difference for a professional-quality installation!
Example of a paper drilling template
After you order, our designers use a CAD program to draft your plaque or number set. They take care to get everything nice and straight, with perfect spacing. They include the hole locations that mirror the exact placement of the pre-drilled holes on the back of your numbers. Once the layout is just right, they print a full scale paper template unique to your order. It has your numbers printed out, all together with drilling locations clearly indicated, on a single sheet of paper. Take extra care with your template. You can use it to visualize where you want to install your numbers before you drill. When you're ready, you'll use tape and a level to tape it to your installation surface. This template makes the drilling process less intimidating.
We appreciate all your questions! You can find more answers to frequently asked questions on our website - the link is on the footer - as well as on every product page. If you have more questions, please email us at hello@modernhousenumbers.com.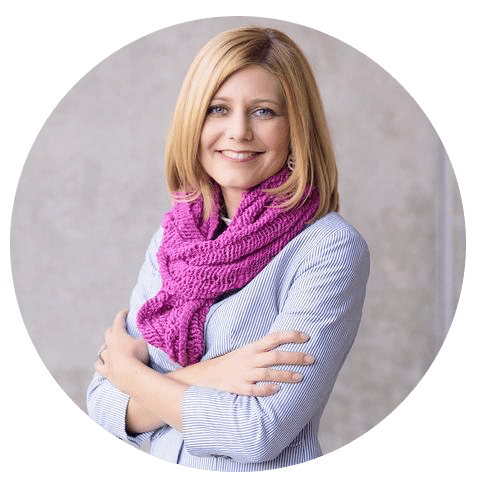 brandy mclain, author
Brandy is an urban planner and site designer with experience at private & non-profit organizations and has been responsible for land development and regional visioning projects. She holds a Bachelor of Architecture and Master in Urban Planning from the University of Arizona. Brandy is passionate about community involvement, anything handmade and holds fond memories of learning to sew at age five.
You can learn more about Brandy on LinkedIn, at ShoutOut SoCal, or at the San Diego Voyager.
You may also be interested in: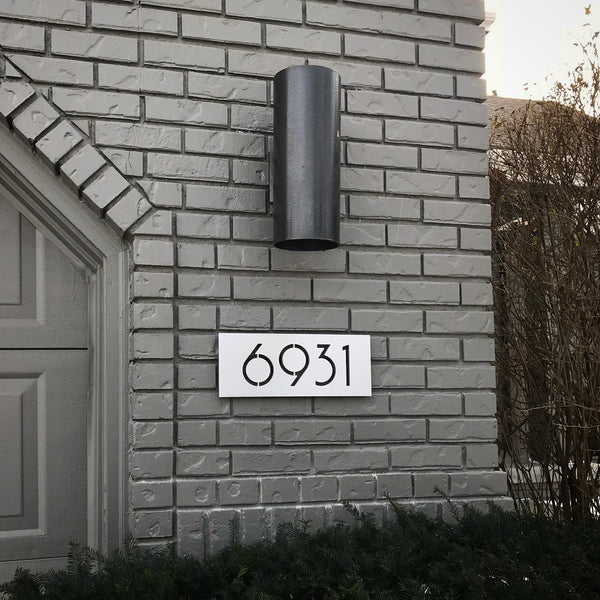 Wondering about metal signs? For more information about metal signage, how much they cost, and how to incorporate them into your project, read on.
READ MORE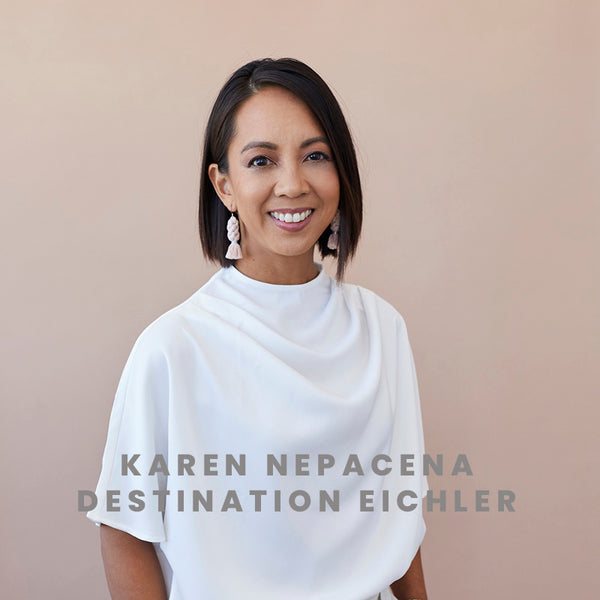 Brandy speaks with Karen Nepacena, one of the leading authorities of midcentury modern design. She is the founder and principal of her design firm Destination Eichler and the author of a brand new book. 
READ MORE