We're committed to
sustainability.
We strive to be good stewards of our environment. Every decision we make, from how we manufacture our products to the size of box we select to ship your order, has an impact on our shared planet. We are dedicated to making improvements in our practices to foster a sustainable future.
We hope you'll join us in taking small actions for a more livable planet.
We are always looking for new ways to make a difference. Have a suggestion? Email us! hello@modernhousenumbers.com
All our operations and business practices will be grounded in principles of sustainability.
Our products will be manufactured in a way that reduces the environmental impact and promotes business integrity.
Our workers are afforded excellent working conditions and are treated with dignity and respect.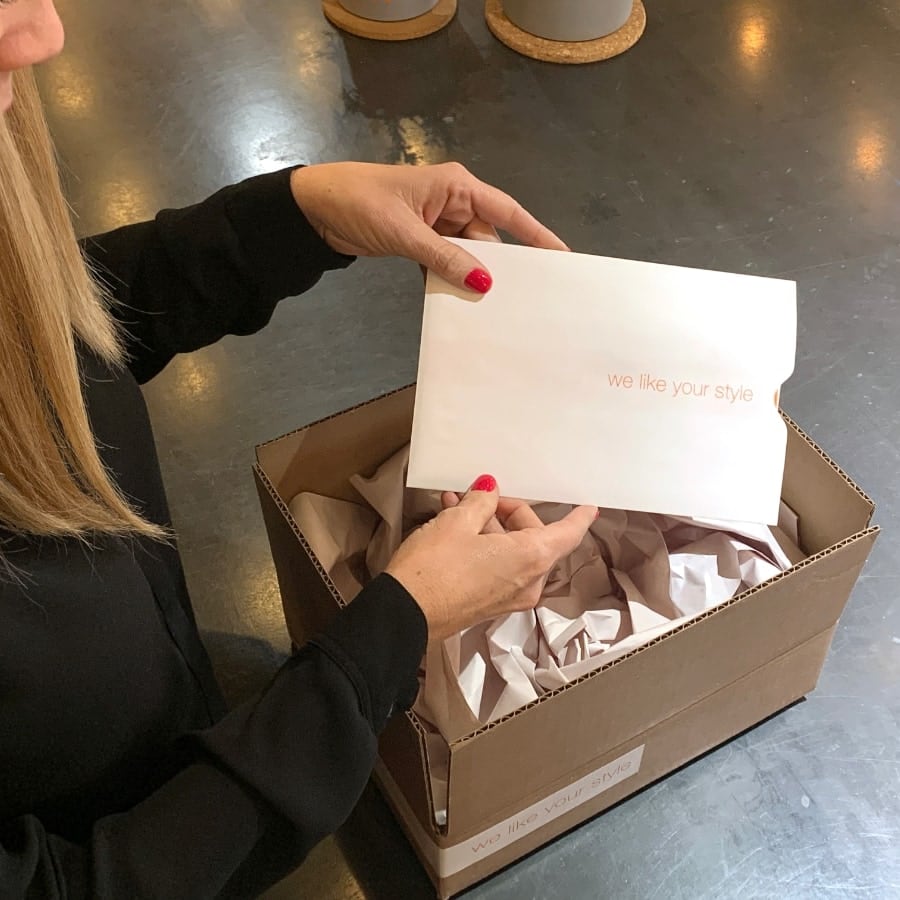 OUR PACKAGING MATERIALS
How to recycle and repurpose your package.
When you're done with your packaging, we encourage you to recycle or repurpose what you can. Here's our guide, by material to help:
All of our boxes are made with a high percentage of recycled content. You can recycle or compost any of our mailing boxes.Just break the box down, and remove stickers and packing tape first.
If in good condition, these boxes can have many lives before heading to the recycling plant. You can keep your box and use it for another purpose.
Our packing paper is made with a high percentage of recycled content. You can put any of the paper you find inside the box – packing paper, packing slip, wrapping paper, cards or envelopes – in your recycling bin. Be sure to remove any stickers and tape first. Any ink-free paper can be composted.
You can also repurpose the packing paper as wrapping paper, as protection for a future shipment, or to protect items during a move.
Plastic bags in your shipment cannot not be recycled. Keep them and repurpose them. They're great for organizing and keeping track of smaller items.
Our mailing envelopes are made from recycled content, and can also be recycled. Remove any tape or stickers before placing in your bin.
Stickers & tape cannot be recycled or composed at this time.
Any extra aluminum spacers can be recycled in your curbside bin. Keep in mind that the spacers are required for a proper installation. Don't recycle your spacers if you need them for your project. Any extras can go in the recycle bin
The front and back protective layers on our mailbox and curb decals are not recyclable.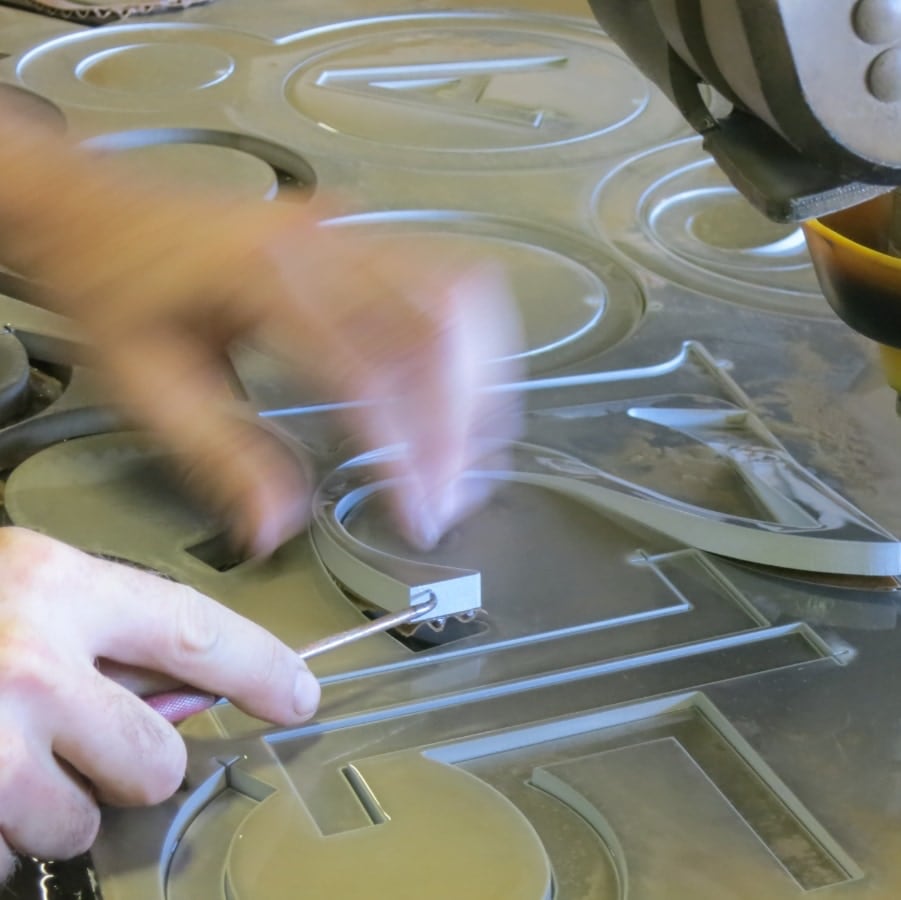 OUR INTERNAL PRACTICES AND MANUFACTURING
You can trust the process.
The products we make are rooted in sustainable practices. This includes starting with high quality, recycled materials that are durable even in the harshest conditions. Here are some of many ways our operations reduce our environmental impact:
Our products are made from 3/8" solid recycled aluminum. The heft of this material extends the life of your product, reducing or eliminating the need to replace them. Plus, the aluminum remnants from the Ihe manufacturing process is recycled, This means less trash in the landfill over time
By planning ahead with batch processing and product nesting, we maximize every inch of raw aluminum as possible. By taking the time to visualize the material usage before cutting, we increase efficiency and minimize waste. This also allows the water jet to run for less time, reducing our electrical consumption as compared to other methods.
Waterjet cutting is a cold cutting process. There is no heat involved. Waterjet cutting reduces waste because there are no parts of the products or materials that are melted or distorted from a heat affected zone. There are no cooling or lubricating oils, chemically contaminated chips or byproducts to dispose of. There are no toxic or greenhouse gasses emitted. The water used in the process is also recyclable.
Plus, all the aluminum remnants that result from the process are returned and recycled to be remade into new aluminum sheets.
Our clear UV protectant extends the life of your products by reducing the impact of harsh UV rays on the material. By eliminating the need to replace your products due to sun damage, we reduce waste.
Our powder coat finishes are extremely durable and long lasting. They extend the life of your products, reducing the load on our landfills. This finish allows us to provide color options, while also more environmentally friendly, as compared to traditional paint. This is owed to the electrostatic process that bonds the finish to the surface without harsh chemicals or solvents, and little to no VOCs.
Our international parcel carrier offsets all emissions caused by our international transport worldwide, and offsets emissions from parcel returns, their buildings, machinery and business travel. Additionally, all our International shipments are packaged with materials that contain a high percentage of recycled content.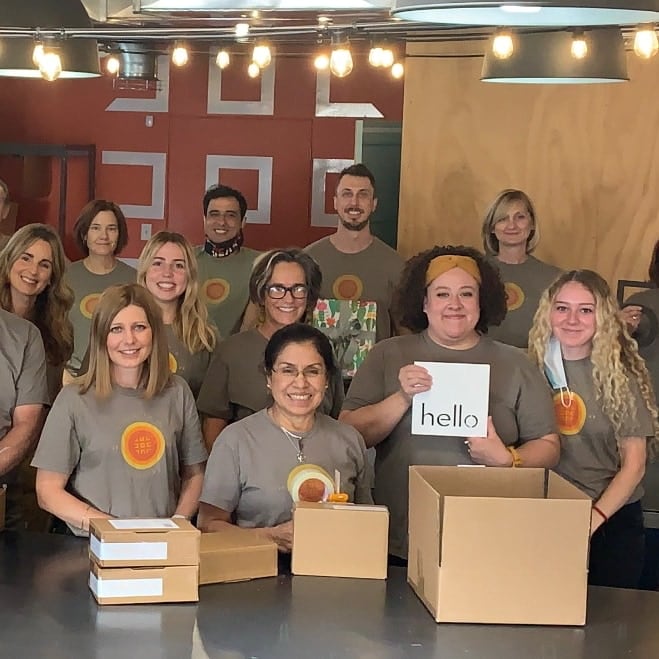 OUR TEAM
Good people, doing good things
We're always looking for ways to take better care of the planet. From eliminating daily single use plastics, using refillable water bottles and coffee cups, riding our bikes for work, and separating our waste and recyclables, our team takes small actions every day to make a difference. We support the well-being of our community by directing our time and resources to community clean ups, eco-conscious organizations, and volunteer work. Have a suggestion? Email us! hello@modernhousenumbers.com