Numbers + Letters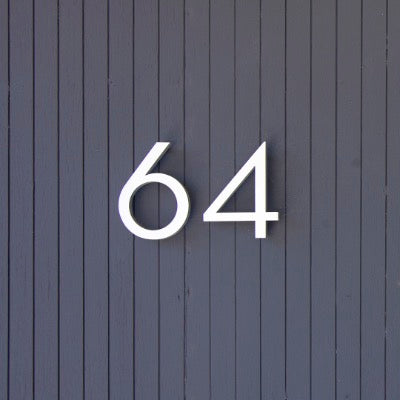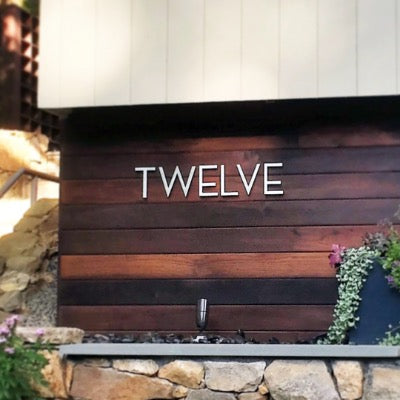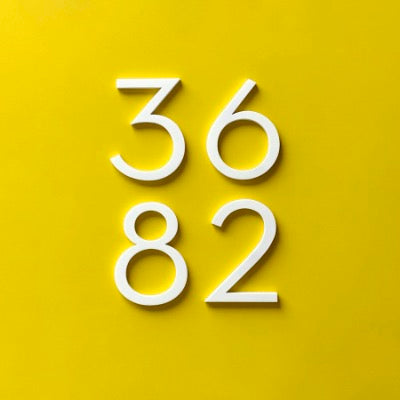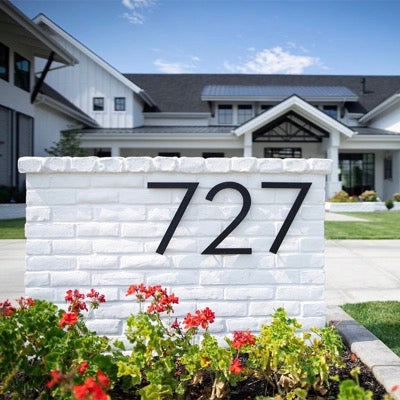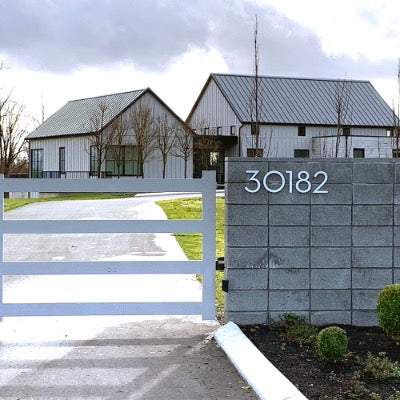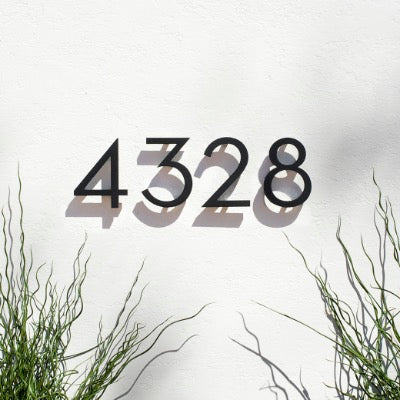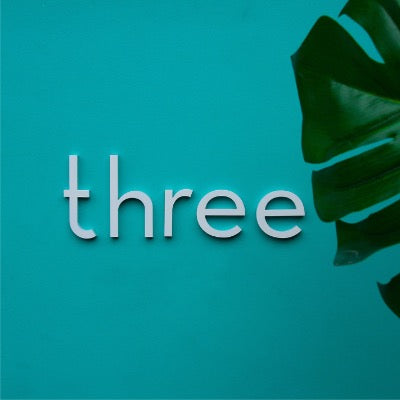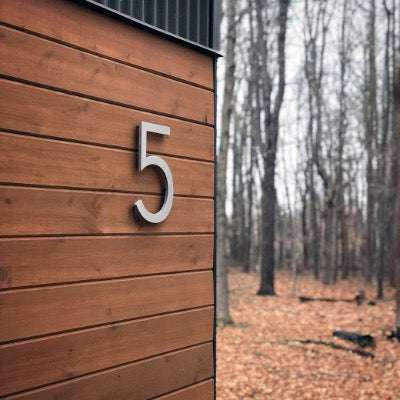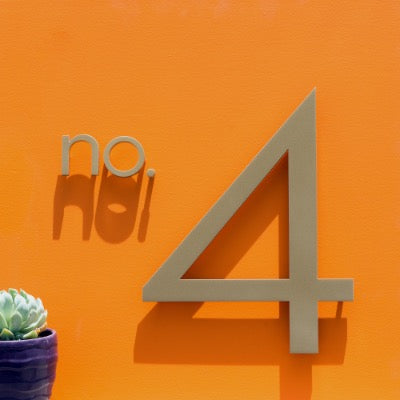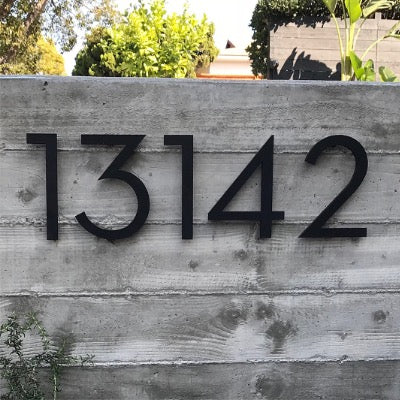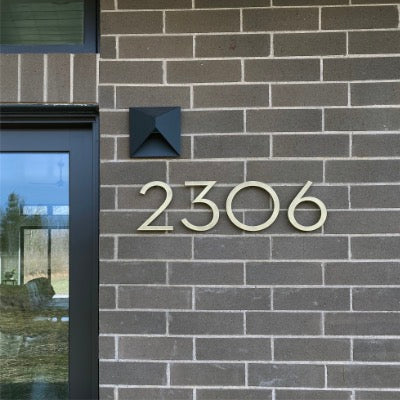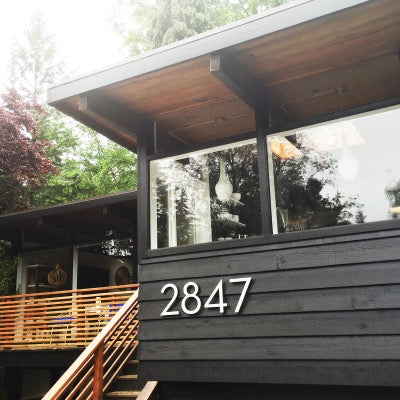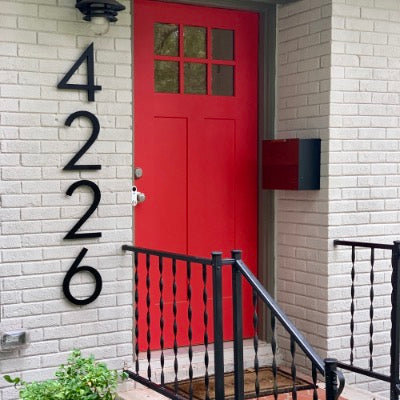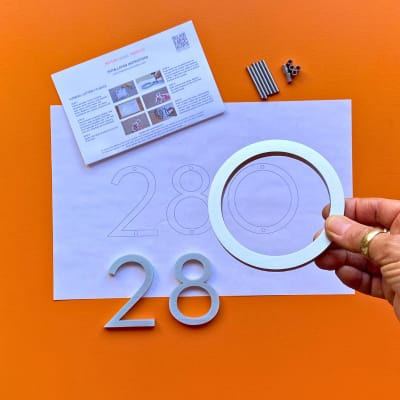 Select your

Font
Palm Springs

SoCal

Austin

SoHo

Backbay

South Beach

Santa Barbara
Palm Springs
Orientation
Horizontal Installation
Template
$

0
USD
0

item(s) @ $

0

each
Numbers + Letters
Elevate your curb appeal with high quality numbers, letters and symbols handcrafted just for you in the USA. Sustainably made from solid, recycled aluminum.
$

0
USD
0

item(s) @ $

0

each
With your numbers / letters order we'll include:
Your made-to-order numbers / letters
Concealed mounting hardware: 2 inch steel studs, ½ inch aluminum spacers
A drilling template with your unique combination of numbers / letters
Step-by-step Installation Instructions
Solid, 3/8 inch thick, recycled

aluminum

Concealed mounting hardware for floating or flush mount
Brushed Aluminum Finish: Water-based UV

protectant

Powder Coat Finish: Low-VOC, won't chip, rust, or

flake

Coastal or industrial area: powder coat finish recommended
Product widths: Technical Specifications
Handcrafted in the

USA

Production Time: 10 business days
Customization and large quantities available
Sorry, no returns
Allow 10 business days for production prior to shipment
International shipping options available
Delivery time varies by location
Delivery via USPS or UPS
Enter zip code during checkout to estimate shipping cost
Or guide me through my
Numbers + Letters options
Numbers + Letters Product Info
Select your favorite font that best suits your style.
Choose a finish that maximizes contrast and legibility.
Possible installation areas: entrance, eave, fence, column, garage, or monument.
Recommended location has building or site lighting for nighttime visibility.
Products can be installed on wood, stucco, stone, brick, concrete and metal.
Measure your available installation area to decide on horizontal or vertical installation.
Confirm the size you've selected will be adequately legible. Refer to Viewing Distances + Sizing Guide
Refer to our Product and Technical Specifications for the height and width of each of your numbers / letters.
Refer to our suggested Spacing Guide for the minimum suggested spacing between characters. Confirm your available measured installation area is adequate.
Prepare to be totally impressed by the beauty and weight of your custom-made numbers and letters! Each are precision crafted, just for you, from solid aluminum. We check them for quality at each step, before carefully wrapping them for shipment. Consult our handy Product and Technical Specifications and our Gallery for more information and inspiration
Everything we make is made to last. For durability, our brushed aluminum products are sealed with multiple coats of our matte, UV protectant. Our powder coat finishes, matte black, white, matte brass and dark bronze, can withstand the harsh conditions found in coastal and industrial areas, and are longer lasting than conventional paint.
Numbers & letters are a stylish and practical addition to your property. They help people find your home or business easily, and reflect your personal style. They can be installed on the exterior of a building, can be used for interior numbering, or to create unique signage. They're an easy and smart way to boost your curb appeal. Our modern numbers & letters are handcrafted and made to last. They arrive with a helpful drilling template and concealed mounting hardware for a subtle floating effect and architectural quality installation. All of our products are proudly made in the USA. Large quantities available.
Our numbers & letters are crafted from solid, ⅜" thick, recycled aluminum in seven fonts, five sizes, and five finishes. They will arrive with installation instructions, concealed hardware for a floating effect, and a helpful drilling template. All of our products are made-to-order in Tucson Arizona. Large quantity and custom orders available.
Number & Letter Uses:
Single family home, multi-family home, residence, townhouse, condominium, apartments, hotel, rental property, office building, commercial property, medical office, dental office, high rise, retirement home, monument sign, address sign, interior lobby, and more