Video: Installing Your Mailbox Decals
Brandy McLain, co-owner of Modern House Numbers shares the four easy steps for installing your new peel-and-stick Mailbox Decals. Be sure to stick around for Step 4 where Brandy shares a super helpful tip for making sure your numbers don't peel up! 
Brandy McLain | Owner, Modern House Numbers
Our exterior grade vinyl decals are a great way to boost your curb appeal without breaking the bank! Available in multiple sizes, colors, and each of our modern fonts, you can customize your mailbox decals to your liking, including numbers, letters and symbols. Once your decals arrive, installing them takes no time. Brandy walks you through the process to make your mailbox number installation a breeze.
"Today I'll share the four easy steps for installing your new mailbox decals. I've found some great tips over the years for beautiful, long-lasting results!"
Brandy has installed more mailbox decals than she can count! She knows the process inside and out. With her expert tips, you'll have the best mailbox on the block in minutes!
FIVE TIPS FOR A GREAT MAILBOX DECAL INSTALLATION
1. Prepare Your Surface
Sounds silly, but your new decals work best on a clean, smooth, dry surface. Rough, wet and dirty surfaces are not decal friendly.
2. Create a Guideline Using Tape
If you take a moment to decide on the best spot for the decals, measure and then use a piece of tape as a guide. When you have something to align to it makes for an installation that is straight and level. This small step is at the heart of a beautiful, long-lasting result.
3. Use A Vinyl Tool or Credit Card
When you're peeling the back protective layer, or the front transfer film, you've got to take your time.
4. Go Slow!
When you're peeling off the back protective layer, or the front transfer film, take your time. 
5. Check Your Work
Once you've peeled off the front film, give each number or letter a final press with your finger, or a vinyl tool. You'll want to press down firmly on the surface of each one, especially on the corners and edges.
  Mailbox Decal Diagram | What You'll Get - Mailbox decals, spaced by our team + Installation Instructions
Video Transcript:
 "Hi I'm Brandy from Modern House Numbers. Today I'd like to step through the four simple steps for installing your mailbox decals. When you get your order, make sure you look for the packing slip, and turn it over for the four easy steps for installing your mailbox decals. Let's get started. The first step is to be sure your surface is clean, dry and smooth. Then gather the supplies that are needed. You'll need a ruler and some tape. The second step is to take the tape and align it to the bottom of the mailbox using the ruler to fully space it out, so when you install your numbers they are aligned and level. The third step is to peel off the backing of the numbers. Simply start in one corner, and peel off the front transfer film to remove the backing.  Align the numbers to the prepositioned tape. Start from the bottom, and simply use your fingers to slowly push the numbers onto the mailbox surface. When it's laid out flat and even, you want to use your finger, or a tool such as this to push down the vinyl numbers firmly. You want to make sure to get all of the numbers, even the edges. If you don't have a tool like this at home, no problem. Use a credit card. Once they are completely pressed down firmly, the last and 4th step is to slowly pull up the clear front transfer film. Make sure you do it from the corner. I found this is a great trick so that your numbers don't peel up as you're pulling up the transfer film. So this item (clear front transfer film) will be discarded. Then, re-press down on the numbers either with your finger or a tool as we discussed earlier to make sure none of the corners have lifted. Then simply remove the guide tape. Look at those beautiful numbers. You're going to have the best mailbox on the block!"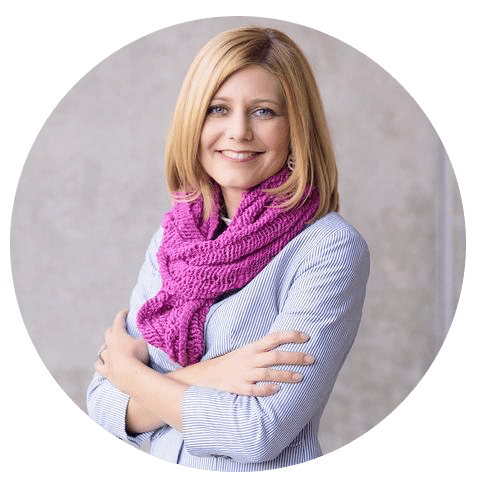 brandy mclain, author
Brandy is an urban planner and site designer with experience at private & non-profit organizations and has been responsible for land development and regional visioning projects. She holds a Bachelor of Architecture and Master in Urban Planning from the University of Arizona. Brandy is passionate about community involvement, anything handmade and holds fond memories of learning to sew at age five.
You can learn more about Brandy on LinkedIn, at ShoutOut SoCal, or at the San Diego Voyager.