Renovating and Updating Your Exterior
With interest rates higher than ever, many homeowners are opting to breathe new life into their existing homes, rather than move or build. Renovation projects, small or large, are an exciting opportunity to express yourself! Exterior updates can make a big impact on the look and feel of your home, while giving your house a boost in curb appeal. That said, exterior renovation projects can also be overwhelming if you don't know where to begin. Sometimes it's hard to decide what to add, what to remove, or what elements and details provide the most bang for your buck.
source: Modern House Numbers | photo: James Judge
To help you with these important decisions, our guest collaborator, James Judge, also known as 'The House Judge' is here with some of his best suggestions for improving your exterior curb appeal without breaking the bank. James is a Phoenix-based designer, realtor, and expert house flipper who knows first hand about the joys and pains of renovating a home. He's collaborated on HGTV and with designer Jonathan Adler! Rest assured these are great design tips will help breathe new life into your home, including clever ideas about address numbers.
Hi! I'm James Judge. I've been involved in more renovation projects than I can count!
James Judge @thehousejudge
While I certainly know my way around a complete and total exterior renovation, I also know how to find creative, and DIY ways to add style and value to your home. For homeowners looking to find ways to modernize their exterior, I've got three great ideas to help you update the look and feel of your home. Here we go!
1. Upgrade With Modern Lighting 
source: Modern House Numbers | photo: James Judge
Without touching anything else on the exterior of your home, upgrading the exterior light fixtures with something modern adds value and helps to give the your home a more current look. Add some landscape lighting too, and your home will be even more head-turning. Selecting fixtures that compliment the style of your home, or your personal style is a great addition to any exterior.
Lighting is a great way to make your home look more sophisticated, and expensive!
Modern lighting enhances a more traditional home without disrupting the original home's design integrity. The temperature of the light, the brightness, and even up and/or down lighting, can add interest to your home. If you drive around your neighborhood in the evening, you may find some inspiration for how you'd like your home to look at night. Many people are hesitant to add modern details to older homes, traditional homes, or even to today's track-style homes. Trust me when I say that thoughtful modern details, including lighting, can integrate very well with any style of home, and reflect your personal aesthetic.


2. Paint
source: Modern House Numbers | photos: James Judge
If your home is dated, or is looking particularly run down, you might be in need of a fresh coat of paint! This project can be more expensive and time consuming than some other exterior projects, depending on the size of the house, but the impact is incredible! For a simple project you can do in a weekend, paint your front door in an exciting bold color! Selecting a more modern or on-trend color scheme can help give a new face to a dated, or traditional home style.
A fresh coat of paint can help revitalize and enhance your home overnight.
If you're in a neighborhood where you have the freedom to choose your paint colors, the sky's the limit! Spend some time looking at example homes in magazines and online. Make note of the color combinations that catch your eye, especially for homes of a similar style or era as your own. Look at the trim color, the color of the fascia, doors, and other elements. All of these areas are opportunities to add style and interest with paint. I've done projects with exterior paint in all shades from light to dark, and everything in between! It's so fun to see what a new paint can do for a home and its curb appeal!
source: Modern House Numbers | photos: James Judge
Address numbers are a necessary detail that help emergency responders, delivery drivers and guests find your home. While they meet this important need, you can also use them to boost your curb appeal. This is a simple project where you can get creative by installing new numbers in a stylish, modern font.
House numbers are functional, but that doesn't mean they have to be boring!
Don't be afraid to consider larger sizes, or use letters to spell out your address. There are a lot of ways that you can put this small but important exterior detail to work to boost your curb appeal and style factor. I recommend the numbers, letters and address plaques from Modern House Numbers. They have great font and finish options, and everything they sell is handcrafted in Tucson. They even have matching mailbox decals and curb stencils!
The unique address letters creates an identity for the home by putting a modern spin on a classic home requirement!
With these three simple tips, you'll transform the exterior of your home into something you can be proud of! It'll look fresh and new, and the best part is you don't have to move to feel like you have a brand new home.
source: Modern House Numbers | photos: James Judge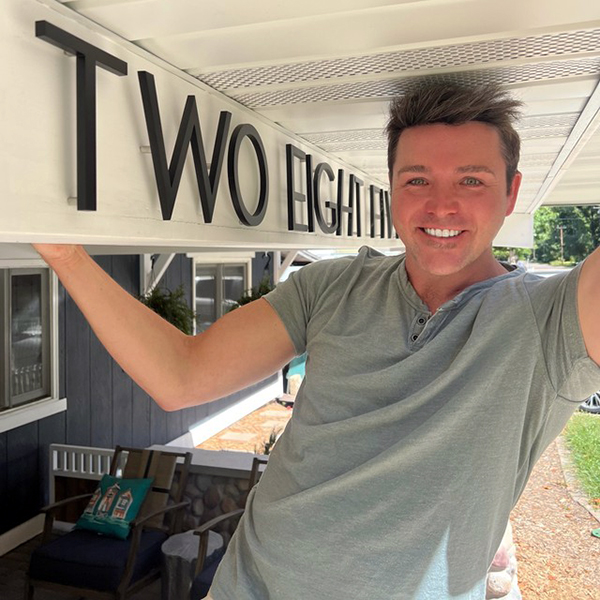 james judge, guest author
James Judge is a Phoenix-based designer, Realtor, flipper, deal fanatic and all-around house-a-holic. Judge specializes in design solutions that breathe new life into tired, outdated spaces by using the home's existing features to maximize the innate design aesthetic that, he believes, it was always meant to have. Learn more about James and his projects on his website and on twitter.
You may also be interested in: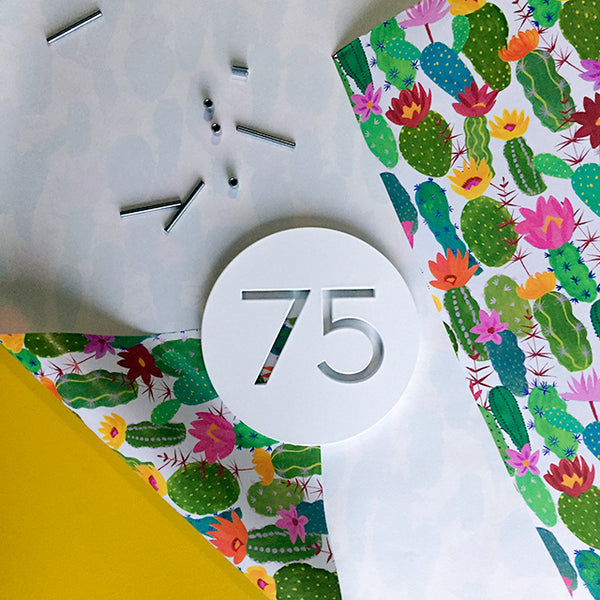 Four thoughtful holiday gift ideas for new homeowners, or for the person who has everything.
READ MORE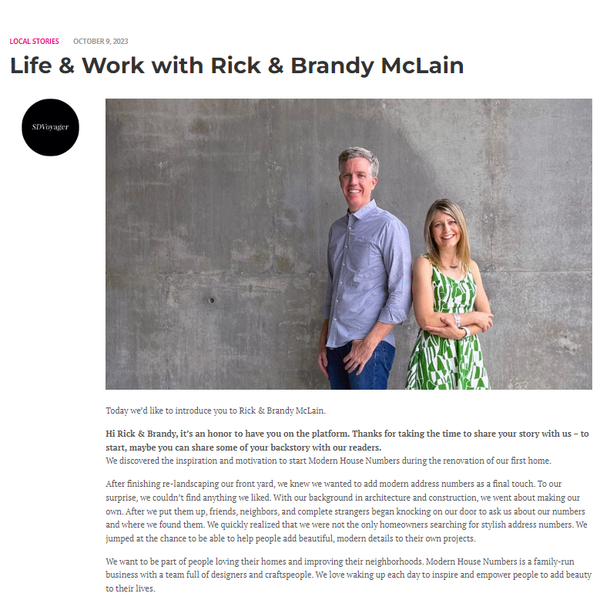 Rick and Brandy had the pleasure of being interviewed by SD Voyager Magazine. Read on for more about the Modern House Numbers story, and the most challenging time in the history of the business.
READ MORE