How to Make Your Mailbox Stand Out with Stylish Decals
Do you want to add some personal touches to your home's exterior? Nothing big, but a simple detail that will add personality and curb appeal to the outside of your home? You don't have to spend tons of money to enhance your look. You can add some pizzazz to your exterior by adding your address numbers on your mailbox.
Palm Springs decals, Orange
Putting your address on your mailbox is a great way to make your home more visible from the road. It's a fabulous way to add your personality and showcase your style. In addition, it can help to boost curb appeal without breaking the bank!
Most people focus on trimming their plants and maintaining their lawns as the primary way of enhancing their curb appeal. Did you know that your mailbox is one of the first things that someone sees when arriving at your house? One of the best ways to add style to your home is by adding mailbox decals in a modern font and color. Our vinyl mailbox decals are simple, quick to apply, and don't require tools. Here are six reasons why you should get order your mailbox decals ASAP.
1. To Increase Visibility
Have you ever circled a neighborhood trying to find a home because of a lack of visible house numbers? You want to remove that frustration for your guests. Visibility is key when it comes to displaying your address. Twice the house numbers, twice the visibility! If your house numbers are in two places, it increases the ease of visitors, parcel carriers, and emergency personnel finding your house. Time is everything in an emergency, and for hot pizza!, so having clear and visible house numbers can ensure that people can find your home quickly.
Backbay decals, Silver
Putting your house numbers on your mailbox is especially helpful if your home is hidden or sits back a distance from the street. Having a mailbox near the roadway with your address clearly visible on it will ensure visitors are at the right place. 
2. To Showcase Your Personality
Palm Springs decals, Black
Mailbox number decals are a great way to display your personality and add head-turning appeal to your home. Something as simple as a set of bold mailbox decals on a white mailbox can set your property apart in an instant. Stylish mailbox decals are a great conversation starter and a way to show off your sense of style.
3. To Add Uniqueness
Is it in your nature to be unique, bold, and different? Then you will love thinking outside the (mail)box to be the first on your block to add stunning address numbers on your mailbox. Especially if you go large! Our mailbox decals come in lots of fonts, sizes and colors. The are a great way to stand out and make your home unique.
Santa Barbara decals, White
Our exterior-grade decals elevate the basic mailboxes that every house in the neighborhood has. You'll be a trendsetter when you add this simple detail to your mailbox. In just a few minutes you'll add uniqueness and style to your home!
4. To Start a Trend
Those living in a community tend to emulate their neighbors when they make a great style choice. Be a trendsetter! Be the first to purchase a beautiful set of mailbox decals for your mailbox. Your neighbors will see your mailbox numbers and want certainly want to know more.The best part is that mailbox decals are affordable! 
SoCal decals, Orange
Your decals might be just the way to win your new neighbors over and start a trend in your area where people consider these details as an important part of elevating the curb appeal in your neighbourhood.
5. To add Personalized Details
Nothing says "home sweet home" like some personal touches. Our decals are great for mailboxes, but they can be easily installed on any smooth, clean surface. You can create a monogram, spell out your street and last name, and a whole lot more.
Palm Springs decals, Brass
Mail carriers love seeing your name and address numbers on the inside flap of your mailbox! You can also apply our decals to a window, or door, or even on metal or glass elements like planters, golf carts, and even trashcans!, inside or outside your home. They work well on cubbies, shelving, pencil cases, and organizers too!
6. Long-Lasting
Another great thing about our decals is that they are durable and long-lasting. They are custom-made from high-quality materials and don't look or feel cheap. They are crafted from exterior-grade vinyl and will last a very long time without fading or peeling. If you ever want to change your decals for a different style, color, or message, they are easy to remove and reapply. Our decals are a cost-effective way to express your style and help visitors and delivery drivers find your home with ease.
Our high quality mailbox number decals are incredibly easy to apply. They are cut from exterior grade vinyl with an adhesive backing and require no tools. Our team will arrange and space them on a single sheet, so all you have to do is peel and stick!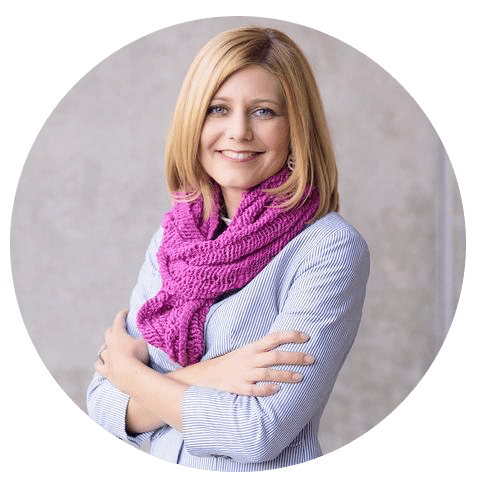 brandy mclain, author
Brandy is an urban planner and site designer with experience at private & non-profit organizations and has been responsible for land development and regional visioning projects. She holds a Bachelor of Architecture and Master in Urban Planning from the University of Arizona. Brandy is passionate about community involvement, anything handmade and holds fond memories of learning to sew at age five.
You can learn more about Brandy on LinkedIn, at ShoutOut SoCal, or at the San Diego Voyager.
You may also be interested in: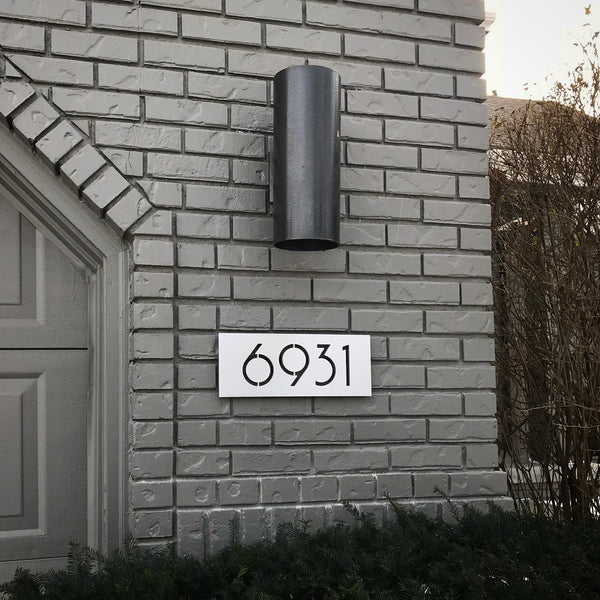 Wondering about metal signs? For more information about metal signage, how much they cost, and how to incorporate them into your project, read on.
READ MORE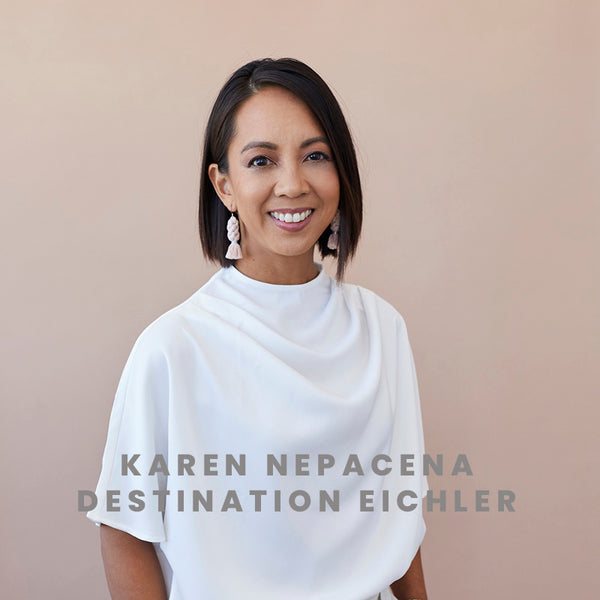 Brandy speaks with Karen Nepacena, one of the leading authorities of midcentury modern design. She is the founder and principal of her design firm Destination Eichler and the author of a brand new book. 
READ MORE