How Much Does a Metal Sign Cost
Whether it's a house number, plaque, or restroom sign, a metal sign is one way to express your style on the outside of your home or business. But how much does a metal sign cost, and is it worth incorporating into your home design?
Stay tuned as we look at the benefits of a metal sign, how you can use it, and how much it costs. In addition, we will present some ideas that you can incorporate into your home environment.
How Much Does a Metal Sign Cost 
Price is certainly the first thing you think of when buying any product. The truth is that no single price applies to all metal signs. Roughly, the price for a metal sign might start from $70 and go up to over $150.
Generally speaking, several factors determine the cost, such as the materials used, the size of the sign, and the details you want included. In continuation, we will discuss all the factors that impact the price of metal signs.
Source: modernhousenumbers.com
Factors That Impact The Metal Sign Cost
Materials
You can choose from countless materials on the market to make your sign. However, many customers opt for metal signs, especially aluminum, due to their durability, quality, and aesthetics. Choosing solid aluminum, instead of a hollow sign, will extend the life of your sign, and will exude high quality.
When it comes to the price, it varies depending on the size of the aluminum tile. So, for example, if you want to make a welcome sign size 6″x6″ square, it will cost you $73.50.
Source: modernhousenumbers.com
On the other hand, if you decide on, for example, Modern House Numbers with dimensions 8″x8″ square, expect to pay about $94.50 or more.
Size and shape
In addition to the materials, the price of a metal sign is determined according to its shape and size. Although some customers want a custom size, most opt for the 6″x6″ square or 8″x8″ square (these sizes refer to the total size of the house numbers sign). 
Regarding the shape of the metal sign, the most popular are square, rectangular, and round.
Source: modernhousenumbers.com
Custom sign
The price of a metal sign can also depend on your unique ideas. Namely, in addition to the standard sizes, shapes, and materials, you can order a metal sign to be made that is tailored to your taste. 
Source: modernhousenumbers.com
For this purpose, you can tell your ideas about the font, the color of the background, or the shape that suits you. You can also decide on a custom message. Ultimately, according to your ideas, the manufacturer will tell you what they can make and the final price.
Types of Metal Signs
Metal signs are part of the house style and can emphasize your sense of elegance, simplicity, or artistic taste. Today, metal signs are mostly used to make house numbers, but they can also be found in other forms, such as metal plaques, welcome signs, restroom signs, etc. 
Source: modernhousenumbers.com
Usually, such signs are mostly used outdoors, as they are quite resistant to external conditions. Next, we will see the household's most commonly used metal signs.
House numbers
House numbers are the first thing visitors will notice. Therefore, before deciding on a house number design, you should consider your options well. Namely, the house number should be different from your neighbors', emphasize your uniqueness, and match the style of the house.
Metal materials for house numbers
Metals have proven to be the most resistant to external influences of all the materials used for making numbers. In the following, we will see the metals that are most popular among customers:
Aluminum: Aluminum is often chosen if you live in environments exposed to harsh climates, such as the seaside. Because of its durability and versatility, aluminum is the choice of most customers looking for modern house numbers.
Bronze, brass, or copper: These materials belong to the group of premium materials. They are characterized by their distinctive finish and resistance to the external environment. Due to their high cost, these materials are not the first choice for many customers.
Stainless Steel: a very popular material for house numbers. This material also contains chromium oxide, which helps prevent the material from rusting. That's why stainless steel is a great solution for outdoor conditions.
As we mentioned above, the price of house numbers depends on several factors. So before you buy, consider the shape, material, size of the metal plate or numbers, and finish. Generally speaking, a five-inch brushed aluminum sign would cost you around $70. If you choose premium materials, expect the price to be much higher.
Source: modernhousenumbers.com
Restroom signs
In addition to house numbers, metal signs can be used in restrooms. Restroom signs can be in the form of plaques, on which the elements are engraved, or they can consist of letters made of metal. 
Source: modernhousenumbers.com
When it comes to material, these signs use a variety of metals and non-metals. Of course, metal as a material is the first choice of customers, especially aluminum as the most durable. Of the non-metallic materials, the most popular are polycarbonate, acrylate, and PVC. The materials' use mostly depends on where you want to place them.
So, the price of such signs varies depending on the materials, size, and finish. For example, a 6″x6″ square plaque with a brushed aluminum finish will cost you about $75.
Welcome signs
A welcome sign is ideal if you want to greet your guests with unique house decor. Such signs are supposed to be placed on the outside of the house or the gate. Since these signs are exposed to the environment and weather, you should choose a durable material that can hold up in the sun, rain or snow. 
Sourc

e: modernhousenumbers.com
If you decide on a more affordable variant, then aluminum as a material is an excellent solution. On the other hand, if you want to give the sign a premium look, you can use more expensive materials like bronze or copper.
For example, if you want to use aluminum as the base material, a 6″x6″ metal plate with matte brass will cost you around $86.95.
Custom metal signs
In addition to standard metal signs, you can put your stamp on where you live. Custom signs allow you to choose the letter font, size, and style. That way, you can give ideas that fit into the home's interior or exterior. 
Sourc

e: modernhousenumbers.com
In addition to metal signs, you can also design custom metal elements or plaques that have a message. You can inform and impress your guests and leave an artistic impression. So, how much does a metal sign cost to suit your taste?
Like the rest, the price of these signs varies depending on the factors we mentioned above. For example, you can opt for a 5″x16″ rectangular aluminum sign with a matte finish that costs around $155.95.
Frequently Asked Questions
Will metal signs rust outside?
Yes, steel signs or signs with steel components left outside in the elements can significantly affect the quality of the material. Namely, leaving the signs outside exposes them to elements like UV rays, water and oxygen. Such elements will affect the oxidation of the metal and the appearance of rust. Therefore, you should choose a materials for your metal sign that does not rust. No matter which metal you choose, you should regularly take care of the metal sign to extend its life and quality.
How long do metal signs last?
If placed outside, a metal sign can last seven to 10 years before it begins to show age. If you want quality and durability, aluminum and stainless steel are your ideal choices for outdoor conditions. Besides, such materials are waterproof, which is a positive feature, especially for places with a lot of rain and snow. 
What is the best size for modern house numbers?
The size of the numbers mostly depends on the customer's wishes and how much space there is to install the address numbers. There is generally a certain size that is most common. Six-inch high numbers are the most popular, but many customers opt for the eight-inch number size. This size is optimal for good visibility.
What is the best color for house numbers?
Most customers opt for contrasting colors when picking the best color for their house numbers. A contrasting color will draw in the eyes of your visitors, highlighting the house number to set it apart from the home's exterior.  Address numbers should be visible. Choosing a finish that creates a lot of contrast is smart and important.
Where do you put a house sign?
The point of a house sign is to be noticeable from afar. It is not always necessary to place signs on the wall of the house or building. You can find other places that might make the sign more visible, like on the gate, on a site or landscape wall, on a freestanding post or other element, or on the mailbox.
Source: modernhousenumbers.com
Conclusion
Metal signs are a great addition to any household. In addition to house numbers, metal signs, including a welcome sign and a restroom sign, can be used in several places to convey a message, or to serve as decor inside the house. 
No matter what you decide, keep your budget in mind. The cost of metal signs depends on the materials, size, and shape. And if you are creative, you can add your own ideas to make your metal sign unique.
We hope we've helped you determine how much does a metal sign cost and where it can be used.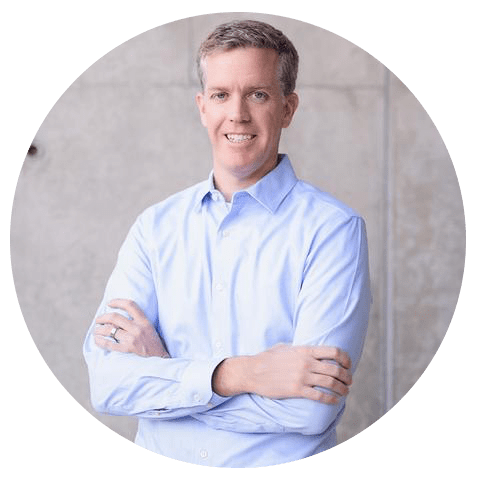 rick mclain, author
Rick is a licensed architect at repp mclain design & construction. He holds a Bachelor of Architecture from the University of Arizona and an MS from the Department of Architecture at the Massachusetts Institute of Technology (MIT). When he's not designing and fabricating he enjoys spending time with Brandy, Jack, Avery & Taylor and restoring his grandfather's Ford pickup truck.
You can learn more about Rick on the Repp McLain Website, on LinkedIn, at the AIA Website, or on Facebook.
You may also be interested in: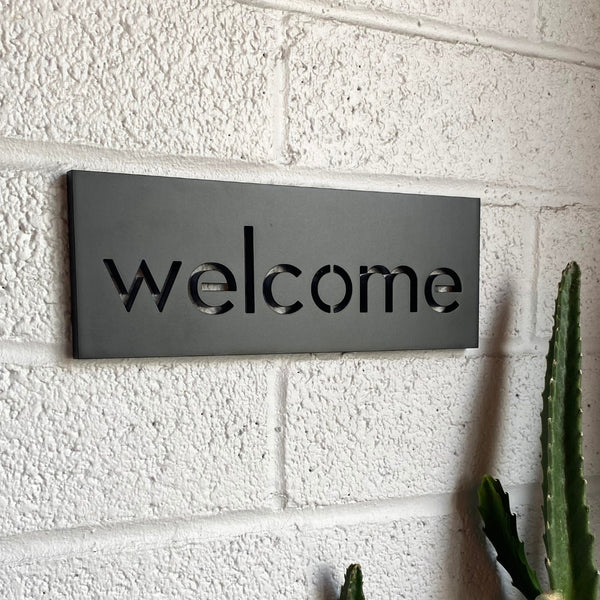 Explore the craftsmanship behind handcrafted metal plaques to elevate your space with timeless elegance. Uncover the biggest benefits of these customized designs, blending aesthetics and durability for a unique statement piece that stands the test of time.
READ MORE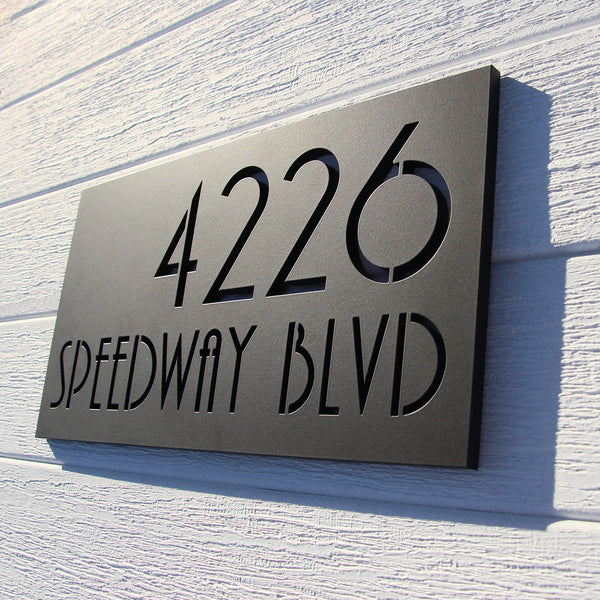 Cleaning your address plaques, plates and numbers is simple and keeps them looking good as new! Follow this expert guide on how to clean your addressing products correctly.
READ MORE