A Maintenance Guide for Your Numbers and Letters
Just as your windows need cleaning, your car needs detailing, and your hedges need trimming, your address numbers and signage need some TLC and maintenance every once in a while to ensure durability, readability, and appeal.
Monument sign with Santa Barbara numbers and letters, Brushed Aluminum
You invested in some beautiful signage; it's worth taking some simple maintenance steps to protect your investment. Plus, your well-maintained signage contributes to your reputation as a business or a homeowner, and maintaining a positive image is simply priceless.
Your interior or exterior building signage or custom address numbers/letters may have a specific recommended cleaning process depending on their material and how durable or delicate they are, but here's a guide to caring for and maintaining most numbers, letters, and signs.
Interior
Custom interior signage, graphic restroom plaques, white
Interior lettering, numbers, and signs may include ADA signs with or without braille, office directories, lobby signs, graphics, front desk signs, or other inside lettering and numbering. Interior signs are often made of vinyl, resin, or acrylic and require specific cleaning processes. Here are the dos and don'ts of cleaning interior signage, letters, and numbers.
The Do's
Dust and clean at least four times a year. This ensures the removal of dust, dirt, and other residues that can build up and damage your sign.
If your sign has dimensional letters or numbers, remove dust from crevices with a clean, non-abrasive air duster or cloth.
Wipe down residue build-up with diluted gentle dish soap and lukewarm water.
Dry with a lint-free cloth
Do what you can to keep signs dry, especially in a humid area.
Don't
Don't leave moisture on your signs, letters, and numbers. The longer moisture sits, the faster damage can occur.
Don't scrub raised braille lettering.
Don't use harsh detergents or harsh cleaning agents. Keep it gentle.
Don't clean with steel wool. Steel wool can cause scratches and chips.
Don't wipe with abrasive rags or paper towels.
Don't overdo the detergent. Being excessive with the detergent can be too harsh for your letter and numbers. Less is more.
Don't allow cleaners to dry on the surface. Always wipe cleaners off with water right away to prevent damage.
Exterior Signage
Exterior signs include addresses or letters for your house, custom house plaques, building signs, property directories, monument signs, etc. Exterior signs are made with durable materials that can withstand the elements such as urethane, aluminum, fiberglass, or stainless steel. Even though they're made with durable materials, they still require maintenance and care. Here are the do's and don'ts for caring for and cleaning exterior signs, numbers, and letters.
Do:
Wash at minimum four times a year
Use high-quality car shampoo and clean water
Remove spare parts when cleaning (panels, frames, hardware)
Read detergent labels to avoid harsh cleaning agents that may cause damage
Be gentle when cleaning the edges of dimensional letters and numbers
Remove tree debris and bird droppings ASAP to avoid damage
Don't:
Don't use abrasive brushes, clothes, or sponges
Don't use harsh cleansers, detergents, methylated spirits, solvents, or acids
Don't clean with used or dirty cloths
Don't use harsh, powerful steam or high-power washers 
While cleaning your numbers, letters, or signs four times a year is a general rule of thumb, but keep in mind that the location of your custom letters or numbers may affect the maintenance schedule. In higher traffic or industrial areas with higher pollution, you may have to clean more frequently as dirt, dust, and grime will build up faster and damage the paint and other elements of your numbers or letters more quickly.
Keeping up with your letter/number maintenance will ensure the job is manageable each time you do it. Say you clean your signs only once a year, for instance. The job will be a lot bigger if you go that long without doing any level of cleaning. In Arizona, we deal with intense heat and direct sunlight that tends to fade painted and plastic components over time. We often recommend color selections to minimize such fading. 
In the Case of Vandalism
Being a target of vandalism is infuriating. Luckily, graffiti cleaners on the market can get rid of it without damaging your numbers or letters. The sooner you remove the graffiti, the better, as sun exposure can engrain it into the surface, making it nearly impossible to remove if it sits too long.
Maintenance and cleaning are essential in keeping your house or business numbers in tip-top shape. We create impeccably-crafted contemporary house numbers at Modern House Numbers to elevate your home's style, value, and safety. Our beautiful collection of numbers, letters, and plaques embodies our passion, expertise, and perfectionism. Contact us today to start designing your perfect numbers, letters, or plaques.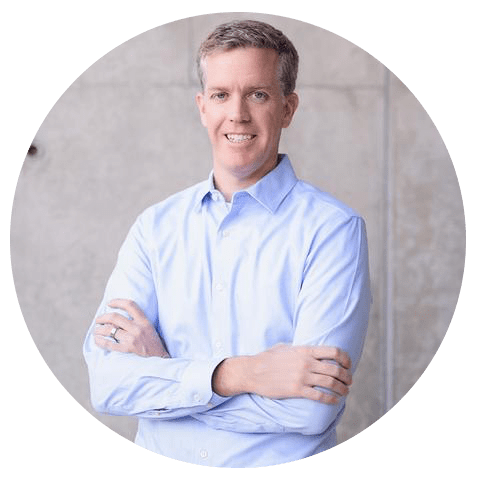 rick mclain, author
Rick is a licensed architect at repp mclain design & construction. He holds a Bachelor of Architecture from the University of Arizona and an MS from the Department of Architecture at the Massachusetts Institute of Technology (MIT). When he's not designing and fabricating he enjoys spending time with Brandy, Jack, Avery & Taylor and restoring his grandfather's Ford pickup truck.
You can learn more about Rick on the Repp McLain Website, on LinkedIn, at the AIA Website, or on Facebook.
You may also be interested in: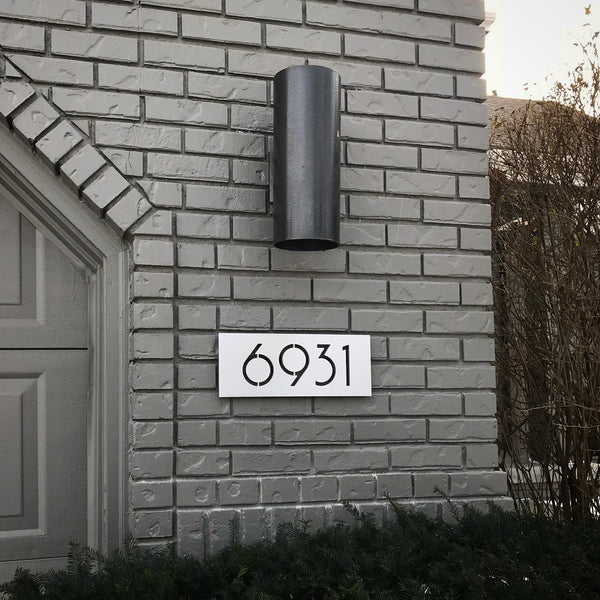 Wondering about metal signs? For more information about metal signage, how much they cost, and how to incorporate them into your project, read on.
READ MORE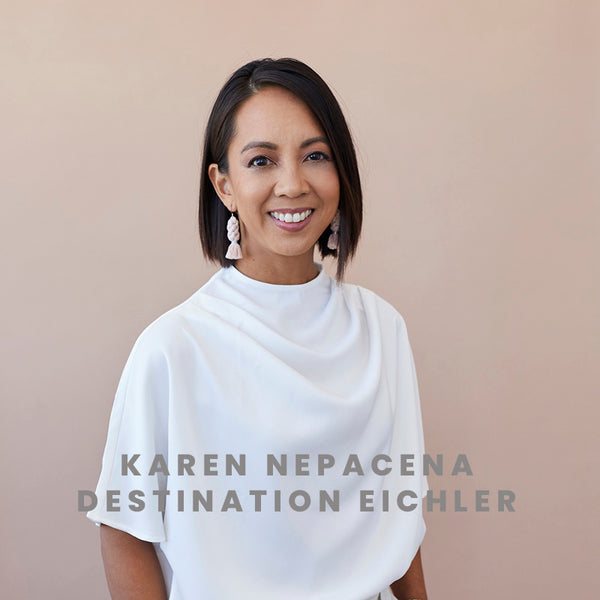 Brandy speaks with Karen Nepacena, one of the leading authorities of midcentury modern design. She is the founder and principal of her design firm Destination Eichler and the author of a brand new book. 
READ MORE