Brandy & Rick On The Joys & Challenges of Entrepreneurship
If you've ever wanted to learn more about the origin of Modern House Numbers, check out the recent feature in SD Voyager Magazine. Our founders Brandy and Rick McLain answer questions about the challenges and opportunities of starting their business from scratch and about the passion that keeps them going.
 Brandy & Rick McLain, co-founders of  Modern House Numbers | Tucson, Arizona - credit: Gerry Lowe
After renovating and modernizing their home, Brandy & Rick wanted sleek, modern house numbers to complete the new look. However, they couldn't find anything that they liked, and that matched their modern aesthetic. Entrepreneurs at heart with experience in architecture and construction, the couple decided to design and make their own. The attention their house numbers received from neighbors and strangers alike told them they had an opportunity for a business that could help people who found themselves in the same situation.
"When we mounted that first set of numbers on our house, we had no idea it would be the start of our own business," remarked Rick McLain. "But, we are grateful that we seized the opportunity because our modern aluminum house numbers allow us to take part in improving homes, neighborhoods, and communities.
"Adding the right finishing touch to a house makes people love their homes."
When Brandy & Rick Modern House Numbers, they had a clear vision for their product and company. First and foremost, they wanted the process from ordering to installation to be enjoyable for their customers. They also wanted their house numbers to stand the test of time, which is why they spent countless hours searching for fonts that were stylish and modern but not too trendy, identifying durable materials, and handcrafting every letter using the best manufacturing processes.
 8" Palm Springs Numbers |Tucson, Arizona
"The product we send out to our customers speaks volumes about who we are," stated McLain. "From the beginning, we decided that we would only be satisfied with the same quality product we would want for our own home."
"Finding the right materials and processes took some time and effort, but we are extremely pleased with the result, as are our customers."
For those thinking about starting their own business, Brandy & Rick shared some sage advice. "If you've done your homework, don't get too hung up on the worry of what might or might not happen, or let other people talk you out of your idea. This is a setback to getting started. Once you launch, you'll adapt, refine, adjust, and move forward. This is the nature of entrepreneurship and growth. If you worry too much about all the possible outcomes before you've begun, you delay your dream. Launching is the hardest part." 
"Our best advice to someone starting a new business is to get yourself and your idea to the starting line as quickly as possible."
Brandy & Rick acknowledge that beyond the quality of the products, that people are at the heart of the success at Modern House Numbers. The entire staff, the heart of the operation, share their passion for design and detail. The Modern House Numbers customers are loyal and enthusiastic about shopping with a family-run business led by architects with the expertise and know-how that results in products and an installation that are lovely and long-lasting.
Our custom house numbers are handcrafted in Tucson, AZ, just for you by our team, and have been used in projects nationwide. The numbers have also grabbed the attention of well-known HGTV star Jasmine Roth, earning them a spot in HGTV magazine.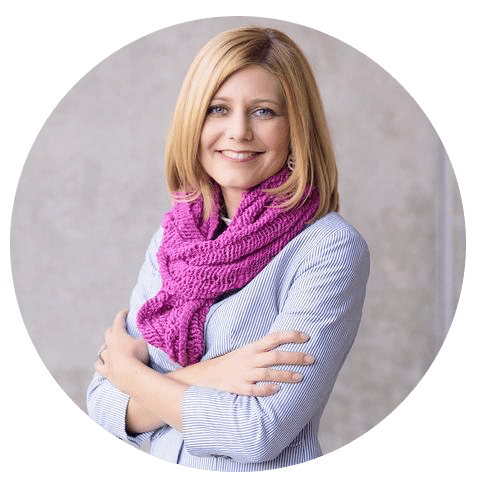 brandy mclain, author
Brandy is an urban planner and site designer with experience at private & non-profit organizations and has been responsible for land development and regional visioning projects. She holds a Bachelor of Architecture and Master in Urban Planning from the University of Arizona. Brandy is passionate about community involvement, anything handmade and holds fond memories of learning to sew at age five.
You can learn more about Brandy on LinkedIn, at ShoutOut SoCal, or at the San Diego Voyager.
You may also be interested in: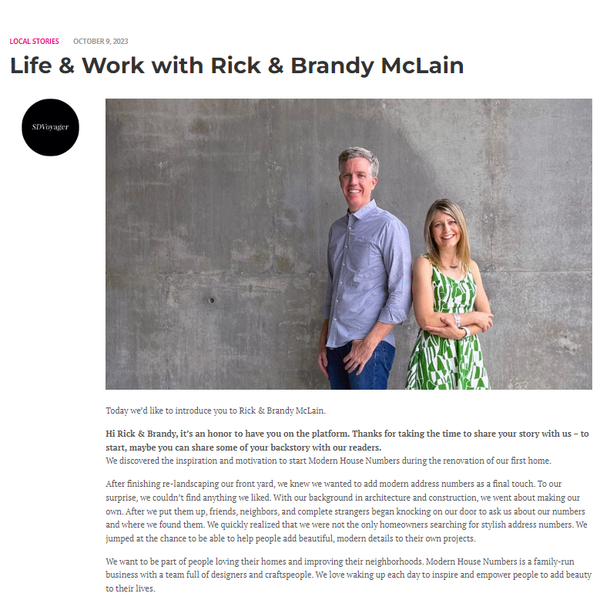 Rick and Brandy had the pleasure of being interviewed by SD Voyager Magazine. Read on for more about the Modern House Numbers story, and the most challenging time in the history of the business.
READ MORE